We have a full HD/4k ENG shooting kit (with lighting & Audio), based around the brilliant Sony FX9 and we can offer aerial filming with our DJI Mavic 2 Pro drone.
Our shoot kit includes:
Sony FX9 4k/HD camera (with Sony XQD cards)

Zacuto Gratical Eye EVF
Shoulder mount/VCT plate & 15mm bars
V-lock Batteries
Portabrace raincover

Fujinon MK18-55mm T2.9 4K cine zoom lens
Fujinon MK50-135mm T2.9 4K cine zoom lens
Samyang 35mm T1.5 prime lens
Canon EF zoom lenses (17-40mm f4, 28-70mm f4, 70-200mm f4) with Metabones speed booster
Canon EF mount FD 35-135 (with macro)
TLS Tern Matte Box with Schneider filters.
Teradek Serv Pro with iPad for Director's monitor
Atomos Ninja V recorder/monitor &  Sinobi 5″ on camera monitor.
Miller Arrow 40 Tripod with Carbon Fibre Sprinter legs
Miller Compass 15/Solo 75 tripod system
Sony A7s2 with Ronin-S gimbal
GoPro Hero 6
GoPro Session Car & boat mount/Sky Pole
Sound Devices Mix Pre 6/2 location audio mixer/recorder
Wisycom MCR 42s dual channel receiver with 2 x Wisycom MTP41s transmitters
Avington Slot camera mic slot
Tentacle Sync timecode kit
Sony UWP-D dual channel radio mic kit (2 x belt packs, 1 x boom unit)
Sennheiser Headphones (with headphone jack adapted by BBC engineering!)
Sennheiser 416 Boom mic with Bubblebee windjammer & wired Ambient boom mic.
Audio Technica AT895 camera mic with Rode windjammer
Audio Technica AT897 boom mic, with Rode windjammer
Falconeyes 100w flexi LED & difusers & stands
Lupo 1k LED Daylight HMI with stand
Dedolight DLED4 kit with stands
Lishuai LED bi-color panel light with stand
Fotodiox LED 900 bi-colour panel with stand
2 x Ianiro 300w reporter lights with stands
Apurture bi-colour LED camera light
PAG LED Camera toplight/kicker
2 x LED camera lights with stands & clamps
Flyking 4ft heavy duty  Cineslider with sandbags
Green Screen, Autopole, magic arms, Manfrotto relectors & Lee lighting gels
DJI DJI Mavic 2 Pro drone (HD & 4k filming)

"this ultra-portable and foldable drone features high-end flight performance and functionality"
Apple Macbook Pro M1 with FCPX, Premiere Pro 6, Sony Catalyst etc.
External hard drives
Canon & Sony stills camera systems
Our Edit Studio: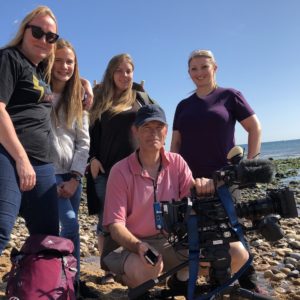 Apple iMac with dual monitors (with a Benq 24inch REC709 monitor for colour grading)
Focusrite audio preamp/monitor
Yamaha HS5 Studio monitors
Lewitt 440 Pure voiceover mic
Audio Technica studio headphones
Final Cut Pro X, Premiere Pro, Avid, Adobe Audition, After Effects etc.
SSD Edit project drives, G-tech project/scratch drives & LaCie Raid archive drives
All our equipment is regularly tested and maintained.
We can also hire in all manner of gear including extra lighting and grip, track, dollies and different camera systems. We work with a local UAV CAA drone pilot for aerial filming.